Get To Know: The Baltic Triangle
The Baltic Triangle is a rapidly growing area of Liverpool that has become a hub for creative businesses, independent shops, and trendy bars and cafes. Located just south of the city center, the Baltic Triangle has a distinct industrial feel with its red brick warehouses and portal framed 'sheds', but it has also undergone significant regeneration in recent years. Here is our guide to what the Baltic Triangle has to offer.
Cafes
The Baltic Triangle has a range of cafes to choose from. One of the most popular is 92 Degrees Coffee, which roasts its own coffee and has a relaxed atmosphere. The Red Berry Club is another great option, serving up delicious coffee and fresh pastries in a cosy space on Jamaica Street. Coffee and Fandisha is worth checking out too.
Bars
The area is well known for its lively bars and clubs, which attract a diverse crowd of students, locals, and visitors. Camp and Furnace, a huge and diverse events space and bar, was one of the first to arrive in the area. Since then many more bars and clubs have opened up, mostly clustered around Cains Brewery Village.
We recommend Dockleaf which is a big airy bar in Cains Brewery Village. You should also check out The Botanical Garden on New Bird Street for outdoor drinks in the sun.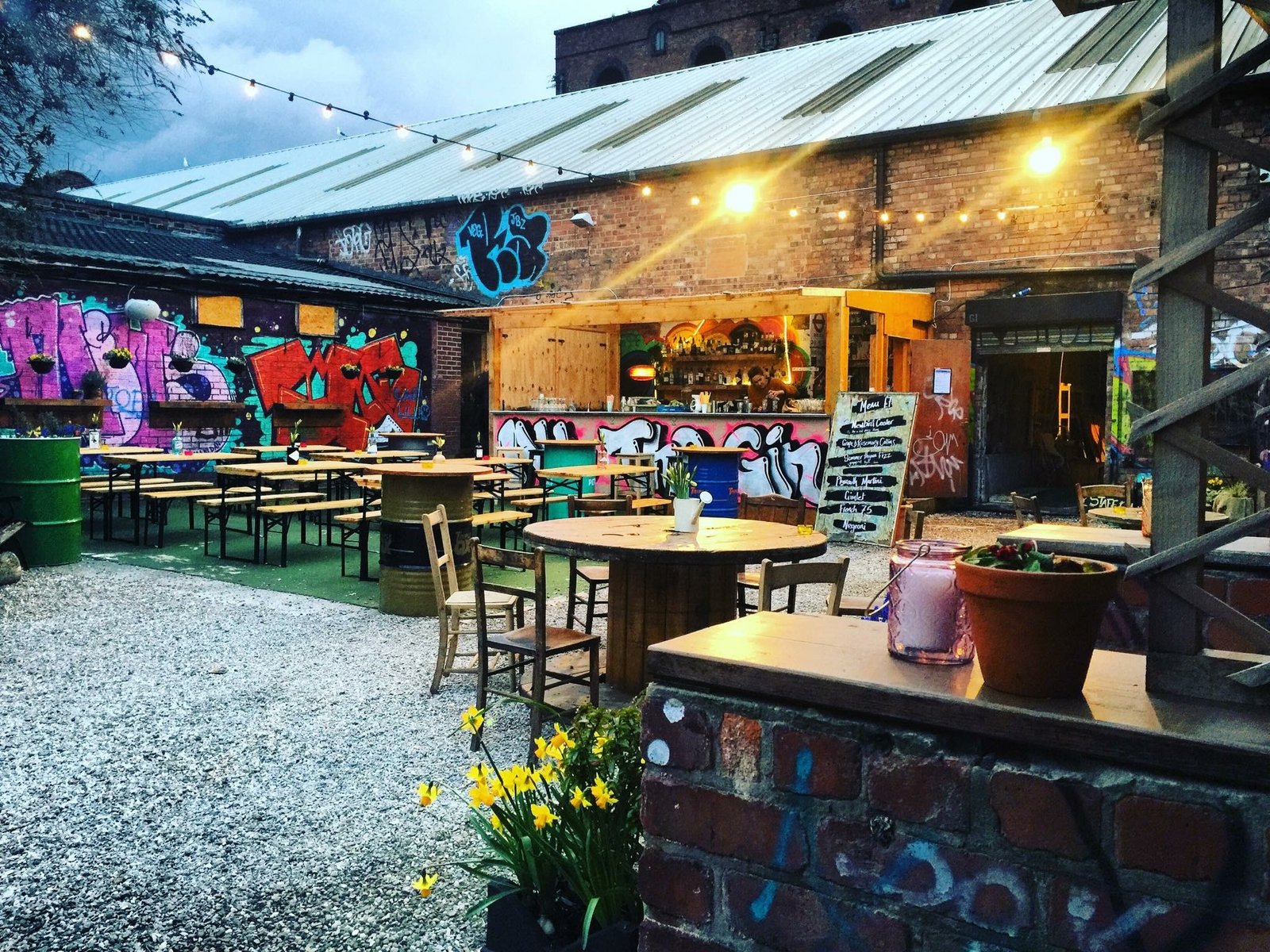 Restaurants
The first mention goes to the Liverpool powerhouse, Manifest. They're new on the scene but have already swept up a place in the Michelin Guide. For more casual dining, Baltic Market is a food hall style venue, with multiple vendors selling street food. Think TimeOut Market in Lisbon.
Retail
The Baltic Triangle isn't usually well-known for its shopping, but if you know where to look you can find some gems.  It is home to a variety of independent shops and boutiques, making it a great destination for a unique shopping experience. There are several vintage stores in Cains Brewery Village where you can get lost for hours.
Seven Store needs mentioning too – it sits in a prime location on Jamaica Street and sells designer clothing for men.
Housing
The Baltic Triangle has seen significant development in recent years and we expect there is much more to come. Expect a variety of options from converted warehouses and loft apartments to modern studios and flats.
The area is particularly popular with young professionals and students, due to its proximity to the city centre and the University of Liverpool.
Transport
The area is well connected to the rest of the city, with several bus routes and the Liverpool ONE shopping center just a short walk away. Liverpool Lime Street Station, the city's main railway station, is also within walking distance but more exciting is the new Baltic Triangle train station which is mooted to be opening in 2025.
The area is relatively cycle friendly, with some designated cycle routes. You will never be far from a City Bike or a Voi scooter.
Nearby amenities
The Baltic Triangle is surrounded by several other neighborhoods, each with its own unique character. To the north is the city center, with its range of shops, restaurants, and entertainment venues.
To the west is the Georgian Quarter, an area known for its beautiful architecture and leafy streets. To the south is the Docks, which has undergone significant redevelopment in recent years and now boasts several bars and restaurants, as well as the Tate Liverpool art gallery.
Overall, the Baltic Triangle is a vibrant and dynamic area that offers something for everyone. Whether you're looking for great food and drink, unique shopping experiences, or a lively nightlife, the Baltic Triangle has it all.